The Cabinet is a structure in Granny that the Player is able to hide in. They may keep the Player hidden from Granny depending on certain conditions detailed in the 'Hiding Mechanics' section below. Cabinets are usually located in better positions than other hiding places, allowing you to know when the coast is clear due to the holes at head height.
Hiding Mechanics
To hide in Cabinets, the Player must manually open and shut the Cabinet door to hide inside. This is more time consuming, making the process of hiding in Cabinets inferior to the Bed, Chest and Car. When inside a Cabinet, you can see Granny but she is unable to see you.
If Granny enters a room where you are hiding in a Cabinet, she will not see you and she will leave (she may also place a Bear Trap). However, if she sees you shut the Cabinet door, she will forcefully open the door and attack you.
Appearance
Most of the Cabinets are weathered, dark and made of wood. They are just the right size to fit a person inside. They also have a grey handle on one side, along with nine holes arranged in a three by three pattern at head height, allowing the Player to see through.
However, the Cabinet located in the Garage is made of corroded metal and has three horizontal lines that the Player can see through. When opened, it makes a squeaking noise, but this does not alert Granny.
Locations
There are a total of four Cabinets in Granny: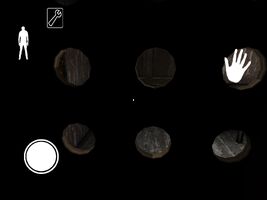 Trivia
It has the same sounds from Hotel Insanity, another game by DVloper.
Community content is available under
CC-BY-SA
unless otherwise noted.