The Crow Room is a big room that was added in Version 1.7 and as in the name, it is where the Crow is found.
Description
It is a reasonably large room where the Crow lives in a cage on the very far corner. It also contains a Barrel, a chimney, a sink with cupboards, a painting of Slendrina's Mom, and a Creaking Floor placed in front of the chimney (so the Player must be cautious as Granny can access this room through the Meat Room).
A staircase on the left will bring the Player down to the Sewer. A door on the right beside the Painting will lead the Player to the Storage Room. A doorway boarded up with Planks, needing a Hammer to take them down. It can also be found which leads to the Abandoned House Closet.
A door opposite to the Storage Room will take the Player to the Meat Room showing their connection.
Spawning
Crow Cage:
Cupboard:
Strategies
Trivia
Gallery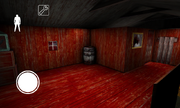 Community content is available under
CC-BY-SA
unless otherwise noted.