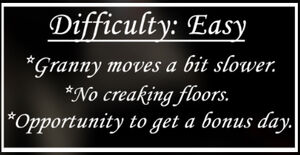 Easy is one of the five difficulty options in Granny. It was added in Update 1.1, and used to be the easiest mode in the game.
Effects
Easy Mode causes various effects that change the gameplay of Granny. These include:
Trivia
Without Extra Locks enabled, the only extra item that is needed to unlock the door is the Padlock Code, which only needs to be found if the Player completes the majority of the game within first couple of Days.