Welcome to the Granny Wiki!
Granny Wiki
| | | | |
| --- | --- | --- | --- |
| 276pages | | | |
Before You Edit
Before you edit on this wiki, please check out the Rules for this wiki.
Content
Gallery
Community
This is the main community page of the wiki. Check here for the latest updates! To see more about the game, go
here
.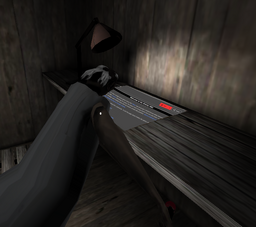 Update Section: Overhaul for Version 1.7!
Update 1.7, released on March 12th, 2019, adds a lot of miscellaneous things (like Freeze Trap and a new "pet") which need to be properly documented, along with some of the new items and tools. Every single room/structure page will need to be updated with pictures of their Nightmare mode counterparts, and we'll need to create/edit some new pages with more content!
News
Rules updated.
The Staff
Staff members have shown commitment to this wiki. However, they come and go and might not all be active. There are four levels of staff members: Moderators, Administrators, Bureaucrats, and Veterans. More info is on the Rules page.
Inactivity Section for Staff Members
If you will be inactive for a long period of time (more than one week), please post your reason and time away here.
Polls
A new poll will pop up pertaining to the Wiki Expansion Conclusion. See Updates Section for more details.
Recent Activity