The Hidden Closet is a secret room found on the upper floor of the Secret Area. It was added in Version 1.1 and it is connected to the Secret Area's Top Floor.
Outside Description
The Hidden Closet is covered by a stack of Cardboard Boxes and a small arch; the Player must knock over the Boxes and then crawl under the arch to get inside.
Granny cannot see the Player when they are inside the Hidden Closet, meaning that it is possible to hide in the Hidden Closet.
Inside Description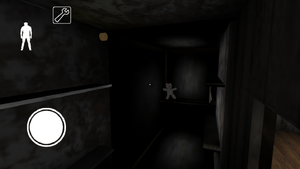 Inside the Hidden Closet, there are multiple shelves. There are 2 sets of 3 shelves; each set creating a 'U' shape (made of 3 shelves). The sets are placed with one above the other.
Items may spawn on these shelves, and for more information on what can spawn inside the Hidden Closet, see Item Locations.
Additionally, in the top-right corner of the room, there is a small wooden button. When pressed, the wall adjacent to the button moves away from the Player a bit. When the Player walks into this wall it flies backwards, revealing the other half of the closet.
Teddy Room
The secret room within the Hidden Closet will always contain the Teddy (hence the name, Teddy Room), but the room may also contain other items (see Item Locations). This room is a lot darker than the Hidden Closet's other half and is seemingly made from a different material.
Trivia
Gallery
Community content is available under
CC-BY-SA
unless otherwise noted.