The Living Room is a location in Granny's house, and it is found on the Ground Floor. It was added in Update 1.0 and it is connected to the Dining Room and the Study. This is one of Granny's possible respawning spots after being knocked out.
Description
Inside the Living Room is a small, old TV and new Satellite receiver that sits on a table (the TV Table). There is also an armchair, a couch, a Creaky Floor and a Large Lamp.
As of Version 1.4, three rounds of Ammunition will spawn in this room on the TV Table.
Spawning
A few items can spawn in the Living Room. For more information on this subject, see Item Locations.
The items that can spawn in this room are:
Trivia
The Hammer used to spawn on the TV Table before Update 1.3.
Before update 1.5, This room and the Dining Room were arguably some of the most useless rooms in the house due to the lack of items that spawn in this room.
Unused Content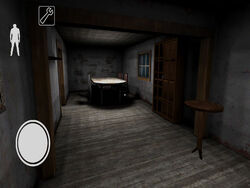 See the teaser of the game it becomes clear that there will be a table in this room, but the room is already dangerous enough so it is transferred to dining room|.