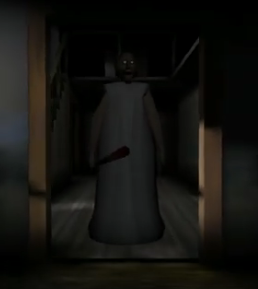 After reading some of this article, which format would you like better?
You're free to voice your opinion on this page's discussion section as well. Although you can still vote on here, the results have been finalized. This page has been changed to a numbered list format.
Since many people close doors behind them and many people don't, I'll like to see if whether closing doors or not closing doors is more preferred.
Notice
You will need to have read the Tool Positions in order to understand which variant of Granny you have. Avoid all hazards, drop all items in safe spots (the grass in Backyard, tables, and workbenches), and close all the doors behind you unless other wise noted. Enjoy!
Tricks
You will need to learn tricks in order to beat the game. They are listed in the Tips and Tricks page.
#1
#2
#3
Drop that and do the Timed Window Jump.
Take the Weapon Key from the Kitchen fridge and go to the Secret Area to load the Crossbow.
Reload the Crossbow to knock off the Screwdriver on the shelf.
Get the Car Key from the right drawer of the Secret Area and go to the Basement.
Go back upstairs (do the Girder Trick if you are playing on Extreme) and to the Attic.
Take a Plank off of the wall and put it across the hole, then walk across and break the Security Camera.
Drop the Hammer down the hole and open the right drawer of the Baby Room to get the Padlock Code.
Do the Attic Trick and go downstairs and put the Padlock Code on the Main Door.
Take the Screwdriver and go to the Backyard to unlock and pull the Secret Lever.
Do the Timed Window Jump and go to the Secret Area to unlock the Screwdriver Safe.
Get the Playhouse Key from there and do the Secret Area Trick.
Get the Master Key and do the Timed Window Jump.
Drop the key near the front door and go to the Secret Area.
Pick up the Cutting Pliers on the Meat Room Table and go to the Jail by doing the Secret Area trick.
Cut the wire, and throw the pliers down the hole, then grab the Safe Key and do the Attic Trick.
Go to the Basement and unlock the Safe, get the Winch Handle, and do the Girder Trick.
Cut the Melon with the Guillotine, get the Padlock Key that falls out, and do the Timed Window Jump.
Take the Cutting Pliers and cut both wires leading to the Main Door.
Take the Master Key and escape.
#4
#5
Community content is available under
CC-BY-SA
unless otherwise noted.