The Meat Room is a room located on the Secret Area Middle Floor that was added in Version 1.1. It contains a table that could contain the Trigger or the Remote Control or the Padlock Code.
The Meat Room contains the Hanging Meat. If the Player goes too close to the meat, it will fall, create a noise, and alert Granny.
As of Version 1.7, behind the Hanging Meat there is a door that will lead to the Secret House. This can be hazardous because the Hanging Meat could still make a noise and alert Granny.
Trivia
Just like the Stair Closet, the Meat room is a possible hiding place due to its size but this is not recommended as the Player has no means of seeing if the coast is clear, unless they open the door which exposes them to Granny.
If you are playing with headphones and stand very close to the meat, you will hear a noise resembling flies which conveys that this meat is decaying flesh.
There is a very large pool of dark red blood under the spot where the meat hangs.
The Hanging Meat is named "Cowleg" in the game files, meaning that it is not the remains of the Previous Victim.
Gallery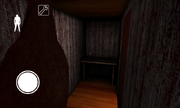 Community content is available under
CC-BY-SA
unless otherwise noted.