Not to be confused with Shotgun (Chapter Two)
The Shotgun is a weapon released in the 1.4 Update. It appears in every difficulty, like the Crossbow.  However, it spawns as disassembled parts. The three parts are as follows:
The Player has to find the three parts and place them on the blueprint located at the Garage one by one.
When it has been assembled, it becomes a weapon. The player can load it with a shell to use against Granny. Twelve shells are located in the house (see below).
The shotgun is the most powerful weapon in the game. When Granny is shot with the shotgun, she will be knocked out instantly, unlike the
Crossbow
. As of the
1.5 update
, Granny is knocked out for a longer time when using the shotgun.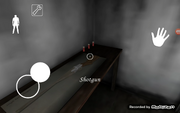 Although it is the most powerful weapon in the game, its
ammunition
is also limited (12 shells). When the ammunition is used against Granny, the player will do the recoil animation and eject the ammo shell out. After that, the barrel will be empty until the player reloads it with another one.
Time-out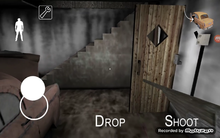 Description and Appearance 
The shotgun appears to be a long single-barreled Lupara when assembled. Lupara is an Italian word used to refer to a sawn-off shotgun of the break-open type.  Although sawn-off shotguns have multiple short barrels, this one has only 1 long barrel.
Uses
Uses that can also be achieved with the Crossbow:
Locations of Shotgun Parts and Ammo
If a part of the shotgun appears in one of these locations listed below, the other parts are found in the locations that are in the same row.
There are a total of 12 ammunition in the house. Note that only the first 3 shells in the Garage can be found at the start of the game; the other 9 spawn after the shotgun is fully assembled.
Trivia 
Gallery
Which do you prefer more, Crossbow or Shotgun?
Community content is available under
CC-BY-SA
unless otherwise noted.