Not what you are looking for? See Table (disambiguation).
The TV Table is a household item in Granny, located in the Living Room. It consists of 3 parts: TV Table, TV and the Satellite receiver. The player cannot interact with it.
Appearance
The TV table is swampy green, and has a unique shape and form. The TV is very rusted, with 3 holes on the right hand side, presumably the speakers. However though, the Satellite receiver is still a bright silver, sitting approximately under the television.
Summary
The TV table is broken into two portions, plus the surface which has the TV situated upon it.
TV
This is a bog-standard old TV, but is one of the only pieces of technology in Granny's house. It currently has no use or cannot be interacted with but may be usable in future updates.
TV Model History
You can found TV Model History on
here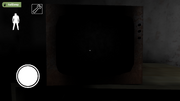 Satellite Receiver
The Satellite receiver is a piece modern technology in Granny. It currently it has no use, but may be in next updates, though this is not confirmed.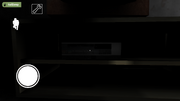 TV Table
This is the table holding the TV. When the Shotgun is assembled, three rounds of ammo will spawn on the right hand side of the table. The Hammer used to spawn on the bottom row of this table, though, this was removed. The Shotgun's buttstock can be found at the table.
Trivia
The Security Camera(Including the Jail Door), TV (including the Satellite receiver) and Microwave are the only piece of modern technology in Granny's house.
The TV looks old and rusty, but the satellite receiver seems to be brand new.
Granny may respawn beside this table in the Living Room after being knocked out by a Tranquilizer Dart, Shotgun, Gasoline Can or Sauna.
A light appears at the bottom left corner of the Satellite Receiver
The TV Table is the only place in the Living Room that houses the necessary supplies to escape.
The TV Table is actually yellow in colour, but after V1.3.2 it looks green due to a darker texture coming home.

But at 1.5 again the yellow color.
Gallery